Kids aged 5+ will connect with parents/caregivers through fun expressive arts activities!
NOTE: This event will take place at the NEW LOCATION for Bridges to Growth. We are now located in the Carver Center for Families at 1200 W. 17th St, Georgetown, 78626.
-——
Join TBCH Hope Counseling Program Suzanne Wood, LPC-S, to have fun while building deeper connections together through art!
For kids aged 5 and up and their families/caregivers.
In these family workshops, Suzanne will lead an art activity that will get the conversation flowing about feelings, worries, resilience, and more. These workshops are open to children aged 5 and up and any grown ups in their lives!
Please note that an adult is required to stay and participate. This is not a drop off event.
Creative Connections is an ongoing event series this fall. Registration for each month's events opens on the 15th of the month before. To get notified when new events are added, click the blue "Follow" button above.
Fall dates: September 9 and 25; October 2, 16, and 23; November 6 and 13; December 4 and 11.
Space is limited and registration is required. Please reserve a ticket for each event you'd like to attend. Each event will have a different art project. See the workshop topics below.
Questions? Email registration@georgetownproject.org.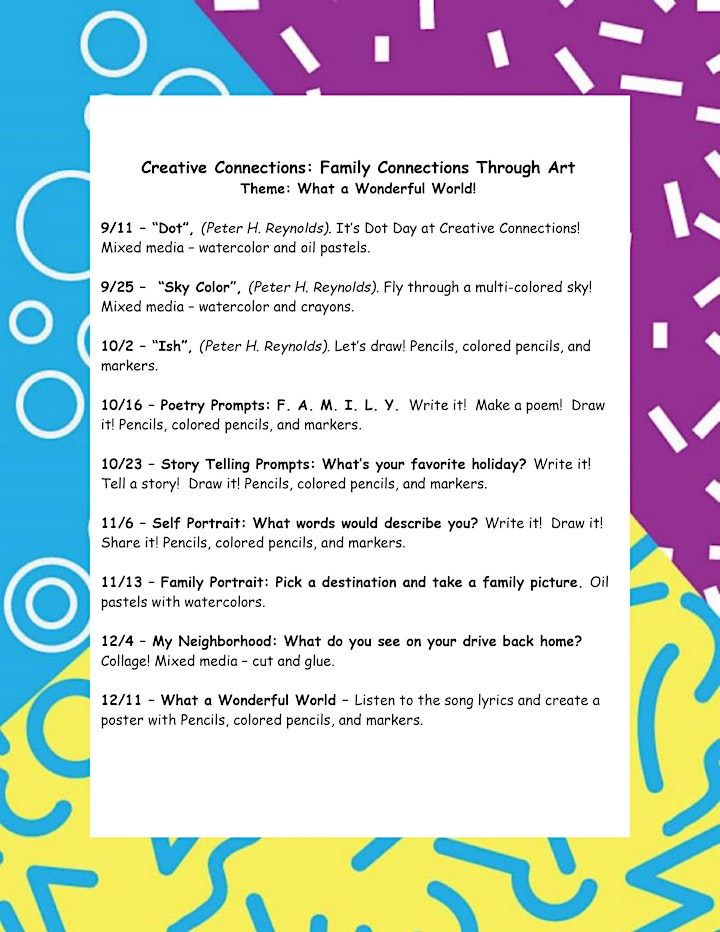 Mask optional. Please follow the CDC's guidelines for COVID infection and exposure.